The Muséum national d'Histoire naturelle (MNHN) is the national natural history museum of France. The main museum is located in Paris, France, on the left bank of the River Seine. It was founded in 1793 during the French Revolution, but was established earlier in 1635 as the royal garden of medicinal plants under Louis XIII .
For much of the 18th century (1739–1788), the garden was under the direction of Georges-Louis Leclerc, Comte de Buffon, one of the leading naturalists of the Enlightenment, bringing international fame and prestige to the establishment.
Some of its early professors included eminent comparative anatomist Georges Cuvier and evolutionary pioneers Jean-Baptiste de Lamarck and Étienne Geoffroy Saint-Hilaire.
The galleries open to the public in the Jardin des Plantes are:
The Gallery of Mineralogy (Galerie de minéralogie)

The Gallery of Palaeontology and Comparative Anatomy

The Grand Gallery of Evolution (Grande Galerie de l'Evolution)

The museum's Menagerie (small zoo)

The Greenhouses (les Serres)

The Herbarium (l'Herbier)
More information about the Muséum: http://www.mnhn.fr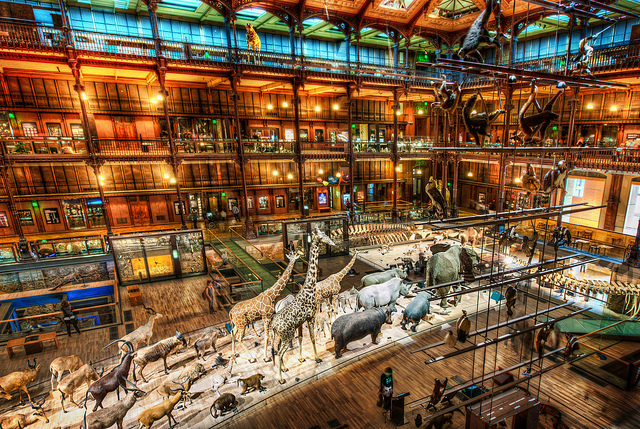 The Grande Galerie de l'Evolution